A pair of Sheffield-based technology companies have joined forces to widen each other's skillsets and better serve a wider network of businesses.
Technical solutions specialist The Curve has entered a joint venture with Textocracy – a company which offers SMS-based consultation services.
They will be working together to help securely scale up Textocracy's service platform.
It offers a fast, easy, and affordable addition to consultation or feedback processes, and the two companies will be making this platform versatile for a wide range of public and private sector organisations.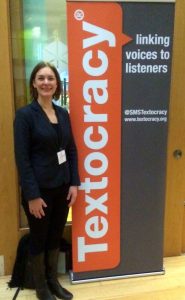 The software provides stakeholders with a simple, free and anonymous way to send comments to organisations and is currently already being used by local government, the NHS, community and voluntary groups and small businesses.
Founder and CEO of Textocracy, Elizabeth Shassere, has a background of working in health and local government.
She will be working with The Curve to identify how their team can develop their offering for the public sector.
She said: "After launching Textocracy in 2015, I think this is the next appropriate step for the life of the business and I'm really looking forward showing how this collaboration can ultimately benefit both businesses.
"We have been in discussions with The Curve for a number of months and their open-minded approach really stood out to us.
"They are a high-skilled team who are inclusive which was really important as we don't come from a technical background, but we know the public sector and the importance of the user's voice in all services."
Paul Ridgway, CEO of The Curve, said: "The service offering that Textocracy has is unique and very valuable on both a local and national scale and could benefit a wide range of organisations.
"We decided to enter this joint venture after recognising that both our team's backgrounds could help one another to move forward and develop for new audiences."
James Ridgway, CTO of The Curve, added: "Working with the team at Textocracy is proving to be very beneficial for everyone involved and we hope this will be a long-term relationship."