Delta Air Lines and Canada's WestJet have withdrawn their application for a transborder joint venture saying the conditions imposed by the US Department of Transportation (DOT) for antitrust immunity approval are "arbitrary and capricious".
In a regulatory filing on 20 November the two carriers that they are "deeply disappointed" that the DOT took two years to approve the JV, and that they cannot accept it as is.
"Several of the conditions proposed by the Department on its grant of antitrust immunity are unreasonable and unacceptable and therefore the joint applicants must withdraw their application," the airlines write.
In October, the DOT tentatively approved the joint venture between Atlanta-based Delta and Calgary-headquartered WestJet, saying that in light of the downturn in passenger commercial air traffic due to the coronavirus pandemic, antitrust immunity would be appropriate to help the industry back on its feet.
But the approval completely excluded WestJet's ultra low-cost carrier Swoop and required the two airlines to divest 16 slots at New York's LaGuardia airport in an auction within eight weeks of the final order.
In the filing, the airlines called this slot divestiture requirement "onerous" and "unreasonable and unprecedented".
"The only apparent reason the Department proposes to impose this condition is its tentative determination that allowing WestJet and Delta to retain their [LaGuardia] slot portfolio while participating in a transborder joint venture would 'exacerbate Delta's dominance at LaGuardia'," the airlines say. "That determination is arbitrary and capricious."
The sale of these slots in a "rushed auction" during current market conditions would be similar to "a fire sale", the airlines say.
The Swoop carve-out also angered the airlines, which argued that the DOT gave competitors United Airlines and Air Canada favorable treatment when it approved that joint venture – without additional review – in 2013.
At the time, Air Canada's leisure carrier Rouge was not excluded from the JV. "This unexplained and unjustified disparate treatment is arbitrary, capricious, and an abuse of the Department's discretion," they write.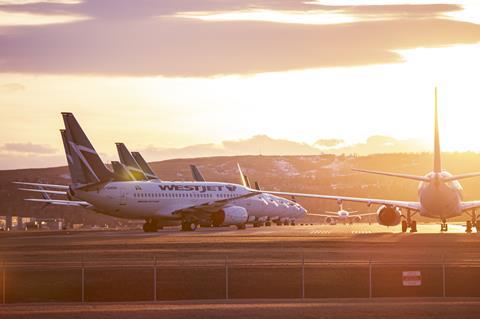 With the approved joint venture, the two carriers would have had a combined 27% share of scheduled US-Canada transborder traffic, with Air Canada, the country's largest carrier, still dominating the market with 45%, according to the DOT.
Travel between the North American neighbours has sharply declined since the coronavirus pandemic began earlier this year. The longest peaceful border in the world has been effectively sealed to non-essential travel since 21 March. After repeated extensions, it is now scheduled to re-open on 21 December.
Canadian government-imposed quarantine orders and other provincial travel restrictions, in addition to the lack of a sector-specific government support programme, have severely hindered the air transport industry's recovery in that country